Indian Head Cents Series, Business Strikes
Overview of the Series
Indian Head Cents were America's first long-lasting small cent coin. The Flying Eagle cent lasted just two years of production before the Indian Head cent made its debut in 1859. The series lasted through the first part of 1909 - giving it 51 years inclusive - before the Lincoln cent took over to celebrate the 100th anniversary of Lincoln's birth.
Coins in the Set
This coin comes in three main types: Copper-nickel with Laurel Wreath reverse (1859 only), copper-nickel with Oak Wreath reverse (1860-1864), and then Bronze (1864-1909). There are approximately 60 total business-strike coins in this series (they were all made in Philadelphia until 1908, hence generally only 1 coin per year) including a few major varieties (such as "No 'L'" or "With 'L'" for 1864). PCGS's online price guide estimates that a complete series in MS-63 condition will cost about $17,000.
My Collecting Goal
To put it simply, I don't have one here. I've been concentrating on the 20th century for the last few years and have not ventured too far into the 1800s to collect coins, and so this series is not really on my radar. I do have several examples from it, including the ones displayed below.
I also have a semi-complete circulated date/mint set that I haven't photographed. These are of low-circulated quality (generally G-4 to VF-20) that fill out the last ~2 decades of their production and they were bought en masse when I was younger along with Lincoln wheat cents.
---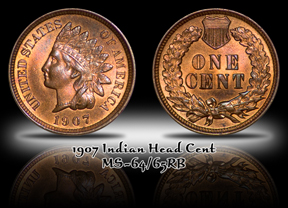 ---
Checklist (May Be Created Later ... It's Long!)