Susan B. Anthony Dollar Series
Overview of the Series
The Susan B. Anthony dollar was the first of the small-sized dollar coins, immediately suceeding the Eisenhower Dollar. It was believed that the Eisenhower dollar failed, in part, due to its large size making it very heavy. Hence, the Susan B. Anthony dollar was created to be a smaller size, about the size of a quarter, and of the same composition as the quarter, dime, half dollar, and former Eisenhower dollar.
Unfortunately for the coin, it was too much like the quarter. People would accidentally use them in place of the quarter dollar and unwittingly pay 4x as much for something. Besides this, the American public had grown used to using paper $1 and not coins, and had - and still has - no real desire to change.
Also (and this is my personal opinion only), the coin is fairly ugly. Let's face it, Susan B. Anthony on the coin looks like that horrid Aunt that you hate to visit because while she's pinching your cheek with one hand she's making you eat prunes with the other while telling your parents that you're spoiled. Anyway...
Because of this, the coin was minted for a record 3 years only, in 1979 and 1980 for circulation, and then in 1981 for inclusion in mint sets. Then, almost 20 years later, an increased demand for $1 coins for change machines caused the Mint to issue one last year of these dollars in 1999, to be replaced in 2000 by a different coin, the just-as-unsuccessful Sacagawea Dollar.
Coins in the Set
A complete set of business-strike and proof Susan B. Anthony Dollars comprises 18 total coins by most peoples' counting, but 20 my mine, inclusive of all varieties. First, there are the 4 regular D coins. Then there are 3 regular S coins (none in 1999). P gets a little trickier with 2 varieties in 1979 (Narrow and Wide Rim) giving 5 coins. Then there's the proof P from 1999. The remaining 5 coins of a complete set are the 1979-1981 proofs, but in 1979 and 1981 there are both Type I and Type II proofs, the difference being a "filled" (Type I) or "clear" (Type II) "S" in the mint mark. See the montage on the right for the way the S mintmarks look on these coins.
The way I get two additional coins is that in 1999 the Mint issued a Special Mint Set of the P and D coins. I thought I read somewhere that they have a slightly different finish on them, but I have never seen them receive a special designation by third-party grading services. So in my official "% Completeness" I do not include them ... though I do have them.
There are three keys to this set, and all of them come from San Francisco: 1971 S Type II, 1981 S (business strike), and 1981 S Type II. The Type I proofs of 1979 and 1981 have a blobby-like mint mark that I believe was due to general fatigue of the puncher used. Later on in both years, it was replaced with a fresh one, creating the "clear" examples. Both generally cost ~$200 in PR-69 condition. As to why the 1981 S business-strike is so expensive (~$500 in MS-66), I have no idea.
I would classify an additional 1 semi-key coin, and that would be the 1979 P Wide Rim. In the second half of 1979, the rim on the die was widened to give the coin a more aesthetic appearance, and this was used for the remainder of the series. The official Mint records are that there were 643 "wide-rim" dies in 1979, which, with an estimated 250,000 strikes per die result in about 45% of the coins from that year having the wide rim. However, no collector really believes this, as anecdotal evidence suggests that it is much rarer than the narrow rim. I personally only found 1 in 40 to have the wide rim.
Difficulties Assembling the Set
The proof coins are easy to find. Even the Type 2s come up for auction several times a month, on average. You just have to be willing to pay for them.
The difficulties I've found in assembling this series is to actually find the for-circulation examples in MS-66 condition, and to find them untoned. For some reason, Teletrade seems to have a '79 D MS-66 in nearly every single one of their auctions. But the majority of the time, they have the toning that I discussed on the Eisenhower dollars. Getting an untoned specimen will cost much more than the average sale price for the coins.
But then actually finding the others is much more difficult, especially for the two keys ('79 P Wide Rim, '81 S). The former only came up about once every 2 months in 2008 at auction (in MS-66), while the latter only half as much. These are keys and they are difficult to find.
My Collecting Goal
I have not completely decided on what my goal is with this set. Ideally, I would like PR-69DC examples of all the proofs and MS-66 examples of all the business strikes. However, the key business strike 1981 S is way outside of my price range at the moment, especially for a coin that I consider unattractive. In addition, I have the 1999 coins ad nauseam because I was actually collecting at the time - I have full rolls of them plus the special mint set plus the proof in original Mint packaging. So I haven't decided whether or not I really "want" to get yet another set of duplicates of them just to have them in thick third-party plastic. Without the 1999 coins, the set will be worth around $1200 "retail," though I expect to complete it for under $1000 ... under $500 if I omit the 1981 S business-strike key. (Link to PCGS's (inflated) price guide for Susan B. Anthony Dollars.)
A Note on the Photographs: Because I'm collecting these in slabs, it is very difficult to take good photos of the coins because (1) I'm photographing through thick plastic, and (2) that plastic is scratched and has dust that accumulates no matter how many times I wipe it off. So keep in mind that the actual coins look better than the photographs make them out to be.
---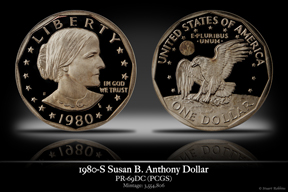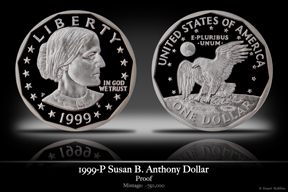 ---
Checklist
| | | | | |
| --- | --- | --- | --- | --- |
| DATE | METAL | STRIKE | HAVE? | GRADE |
| 1979 P Narrow Rim | Clad | Business | | |
| 1979 P Wide Rim | Clad | Business | | |
| 1979 D | Clad | Business | | |
| 1979 S | Clad | Business | | |
| 1979 S Type I | Clad | Proof | YES | PR-69DC |
| 1979 S Type II | Clad | Proof | YES | PR-69DC |
| 1980 P | Clad | Business | | |
| 1980 D | Clad | Business | | |
| 1980 S | Clad | Business | | |
| 1980 S | Clad | Proof | YES | PR-69DC |
| 1981 P | Clad | Business | YES | MS-66 |
| 1981 D | Clad | Business | | |
| 1981 S | Clad | Business | | |
| 1981 S Type I | Clad | Proof | YES | PR-69DC |
| 1981 S Type II | Clad | Proof | YES | PR-69DC |
| 1999 P | Clad | Business | YES | Uncirculated |
| 1999 P | Clad | Proof | YES | Proof |
| 1999 D | Clad | Business | YES | Uncirculated |