Gold American Eagles
Overview of the Series
Gold American Eagle bullion coins were first truck in 1986, and they have been struck every year since. They are struck in 1/10, 1/4, 1/2, and 1 oz varieties. The obverse of the coin features Agustus Saint-Gaudens classic design of the archetypal goddess Liberty striding forward from the US capital building, the sun behind her, with a liberty torch in her right hand and an olive branch in her left. The reverse is not Saint-Gaudens' design, but rather family of eagles designed by Miley Busiek.
The coins are struck in 99.25% fine gold. The 1/10 oz carries a nominal face value of $5, the 1/4 is $10, 1/2 is $25, and 1 oz is $50. Despite the face values being much less than their bullion value, the 1/2 and 1 oz represent the only coins minted for the public in the US that have face values greater than $20 - except for the platinum eagles.
Coins in the Set
Each year, there have been one regular-issue proof and business-strike coin per weight (1/10, 1/4, 1/2, and 1 oz through 2008). In 2008, the Mint announced it would be streamlining its products and not producing any fractional business-strike versions in 2009. With that in mind, the series has 188 different regular-issue coins through 2009.
In addition, there was an accidental-issue W-mintmark business-strike coin made from unpolished proof dies for the 1/10 and 1/4 oz strikes issued in 1999.
In addition to these, the Mint released a special "20th Anniversary Set" in 2006 (even though it was the 21st year) that included the 1 oz regular proof, a first-ever "Reverse Proof," and a special "burnished" business-strike W-mintmark coin. Originally, one could only obtain the burnished coin in the set, but then the Mint chose to offer it separately, as well. It did so for the next two years, in 2008 announcing that it would not release one in 2009.
With these "special-issue" coins numbering 6, there are 193 coins in the series as of 2008. 2009 saw a suspension of proof issues - much to the chagrin of the US Mint and the displeasure of collectors - supposedly due to difficulties obtaining gold blanks. I say "supposedly" because other mints around the world had no problems obtaining adequate supplies. 2010 saw the resumption of proof and bullion examples struck in September and on sale in October.
My Collecting Goal
I started graduate school in 2005. To celebrate the event numismatically, I decided to start purchasing 1/10 oz proof platinum american eagles. In 2006, I wanted to add another series, so I decided for 1/4 oz gold eagles (proof). This is a set that I'm collecting in original government packaging, and I'm not too active in it except to make sure I collect the current year's offerings.
In addition to the 1/4 oz proof coins since 2006, for what I believe was my 14th birthday (or some birthday when I was a teenager), I went to a coin store with my grandmother and she agreed to purchase a coin for me that I wanted. Being a good grandson and not wanting her to spend huge amounts of money, I opted for the 1/10 oz 1997 business-strike example of the coin, which was my first modern gold coin.
When bullion prices soared in 2009, I stopped buying these coins. The 2011 1/4 oz. issue costs around $450 from the Mint when originally released for sale. This is twice as much as I paid for the 2006 and 2007 versions. So, I suspended my purhcase under the idea that I would rather buy a 100-year-old coin for that price than something the Mint produced to make a profit.
---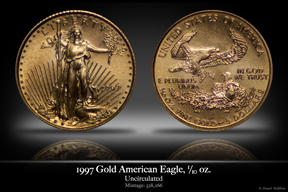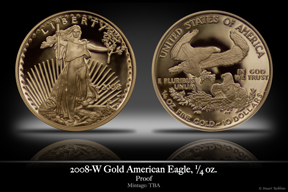 ---
Checklist (May Be Created Later ... It's Long!)