Silver American Eagles
Overview of the Series
Silver American Eagle bullion coins were first truck in 1986, and they have been struck every year since. They are only produced in 1 oz coins. The obverse of the coin features Adolph A. Weinman's classic "Walking Liberty" design of the archetypal goddess Liberty walking towards a rising sun with her right arm outstretched. Her dress is striped while her cape/scarf has stars, meant to portray the US flag. The reverse is not Weinman's design, but rather an eagle with a shield, arrows in one claw, and an olive branch in the other, with 13 stars above its head, designed by John Mercanti.
Coins in the Set
Each year, there has been one regular-issue proof coin. Each year, there has been one regular-issue business-strike coin. That's 46 coins up through 2008. And then in 2009, to the bane of many collectors, the Mint only made business-strike versions - supposedly due to difficulties obtaining silver blanks. I say "supposedly" because other mints around the world had no problems obtaining adequate supplies, and supply companies have come forward saying they offered the Mint blanks but did not even receive a response. The Mint resumed struking proofs in late 2010. So, up through 2011, we have 51 coins.
In addition, there was a special-issue W-mintmark proof issued in 1995 that had the lowest mintage of the series of only 30,125 pieces (and now retails for around $5,000). That brings the total to 56.
In addition to these, the Mint released a special "20th Anniversary Set" in 2006 (even though it was the 21st year) that included the regular proof, a first-ever "Reverse Proof," and a special "burnished" business-strike W-mintmark coin. Originally, one could only obtain the burnished coin in the set, but then the Mint chose to offer it separately, as well. It did so for the next two years, in 2008 announcing that it would not release one in 2009. So that gave us an additional 4 coins, bringing the total to 56.
There was also an "error" coin in 2008 when they re-designed the reverse, but some 2008-dated coins have the reverse of 2007.
My Collecting Goal
I started to collect this series regularly in 2000. I have collected proofs since then, and I have a smattering of the earlier years. This is a set that I'm collecting in original government packaging, and I'm not too active in it except to make sure I collect the current year's offerings.
I started to collect the business-strike examples in 2007, and so have them since that year.
In addition, I purchased all the burnished versions of the coins, and I purchased the 20th Anniversary Set when it was released ($100 issue price, the burnished coin now being worth $110 on its own and the reverse proof up to $300 ... I should've bought more).
---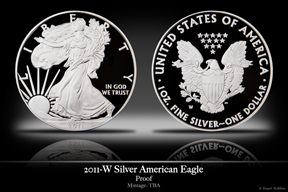 ---
Checklist
| | | |
| --- | --- | --- |
| DATE | STRIKE | HAVE? |
| 1986 | Business | |
| 1986 | Proof | YES |
| 1987 | Business | |
| 1987 | Proof | |
| 1988 | Business | |
| 1988 | Proof | |
| 1989 | Business | |
| 1989 | Proof | YES |
| 1990 | Business | |
| 1990 | Proof | YES |
| 1991 | Business | |
| 1991 | Proof | |
| 1992 | Business | |
| 1992 | Proof | |
| 1993 | Business | |
| 1993 | Proof | |
| 1994 | Business | |
| 1994 | Proof | |
| 1995 | Business | YES |
| 1995 | Proof | |
| 1995 W | Proof | |
| 1996 | Business | YES |
| 1996 | Proof | |
| 1997 | Business | |
| 1997 | Proof | |
| 1998 | Business | |
| 1998 | Proof | |
| 1999 | Business | |
| 1999 | Proof | |
| 2000 | Business | |
| 2000 | Proof | YES |
| 2001 | Business | |
| 2001 | Proof | YES |
| 2002 | Business | |
| 2002 | Proof | YES |
| 2003 | Business | |
| 2003 | Proof | YES |
| 2004 | Business | |
| 2004 | Proof | YES |
| 2005 | Business | |
| 2005 | Proof | YES |
| 2006 | Business | |
| 2006 | Business, Burnished | YES |
| 2006 | Proof | YES |
| 2006 | Reverse Proof | YES |
| 2007 | Business | YES |
| 2007 | Business, Burnished | YES |
| 2007 | Proof | YES |
| 2008 | Business | YES |
| 2008 | Business, Burnished | YES |
| 2008 | Proof | YES |
| 2009 | Business | YES |
| 2010 | Business | YES |
| 2010 | Proof | YES |
| 2011 | Business | YES |
| 2011 | Proof | YES |