US Type Set - 20th-21st Century
Overview
Creating a type set can be a very rewarding experience, and it is one that allows an almost infinite variety in how exactly you put together your set. The basic premise of a type set is to collect one coin of every type, as opposed to a date & mint mark set where you collect every coin of a given type for all years and from all mints that it has been produced. As a consequence of only requiring one coin per type to be complete, the type set is considerably cheaper than a date & mint mark set.
It allows for a huge amount of customization because you can decide exactly what types you want to include, grade goals, and what specialties you may want to concentrate in. For example, a 20th century silver proof type set is a fairly specialized set and omits all 1¢, 5¢ (except war-time silver), post-1965 coins, and all gold. But it also sets the expensive goal of proofs, the early ones being relatively expensive over their business-strike counterparts.
Another way to customize a type set is to only collect from one mint. For example, you could say that if San Fransisco didn't make that type of coin in business-strike condition, you won't collect it. Or you could be more inclusive and only collect coins from Philadelphia. But you could then narrow that goal and only collect first-year-of-issue (e.g., require your Lincoln Cent Memorial Reverse to be from 1959).
Yet another way that you can customize your set is to decide yourself what you will consider a separate type. For example, do you consider the 1918 Lincoln cent a different type from the prior years because the initials "VDB" were added to the bottom of Lincoln's bust? Or do you consider every state quarter to be a different type? Or are you content to say you have one Washington quarter, regardless of metal and regardless of state?
These are all decisions that you can - and should - make for yourself, and it will add a significant amount of individuality to the set that you build.
My Collecting Goal
Given that introduction, my goal is to collect with the following goals in mind:
First year of issue (or 1901).
Philadelphia Mint only (the only exception being the 1901-O Morgan dollar since 1901 from Philadelphia costs about 100x more in the grade I want).
All types and varieties, as laid out in my checklist below, excluding the Mint's errors.
Uncirculated grades that are affordable to me.
So what does all that mean? Well, the first year of issue or 1901 is fairly self-explanatory. If you're wondering, then just scroll down and look at my checklist. Philadelphia Mint I chose because it's the longest-operating Mint in the US - it's the "original" mint for our country. Hence, when I extend the set back to earlier coins, I will be able to remain consistent.
"All" types and varieties is incredibly inclusive. For the expensive stuff (at least from this century), it's still manageable and reasonaly main-stream, such as including both an example of the silver and clad dimes and quarters. However, including all the varieties of cents (for metal changes or head shrinkage), the 1925 recessed date for the Standing Liberty quarter, and a few others are somewhat unconventional. But, I'm still going to go for it because I think it shows something important in our coinage history.
Uncirculated grades that "are affordable to me" is incredibly vague. Especially because some of the grades that I'm going for will amount to a $600 coin in one case vs. a $10 coin in another. And that's not including gold. The basic goal is for the most recent coins to collect in MS-66. Then, the farther back in the century, decrease the grade by 1 or 2 points, getting down to MS-63 for the 1901 coins (MS-62 for the gold). An example of this progression would be the dollar coins: 1901-O Morgan (MS-63), 1921 High-Relief Peace (MS-64), 1922 Low-Relief Peace (MS-64), 1971 Eisenhower (MS-65), 1979 Susan B. Anthony (MS-66), 2000 Sacagawea (MS-66), 2007 Presidents (MS-66), etc. Going higher than MS-66 is silly, in my opinion, and gets expensive especially since I can get around MS-65 or -66 specimins of current conis for face value from the Mint.
Now, as to whether the coins are raw or certified ... my original intent was raw-only. I want to be able to "get closer" or to "feel" the coin if I want. However, many of these coins - especially the pre-1950 ones - are very expensive. Again excluding the gold, if you just look at the 1916 Walking Liberty half dollar in MS-64, that's a $750 coin. Or the 1901 Barber dime in MS-63 is a $150 coin. And then especially when you get to the gold, counterfeiting is a huge concern.
Consequently, I'm going certified for the early, high-dollar amount coins and the gold - PCGS or NGC, doesn't matter to me since I may crack 'em out at some point. Some of the more recent stuff, like a 1982 Copper-Plated Zinc Lincoln Cent, I'm going for raw. For coins like that, the slab costs more than the coin. And there's no real worry of counterfeiting or cleaning or other detrimental things because the coins just aren't worth the effort.
---
1¢ Coins
Checklist
| | | | |
| --- | --- | --- | --- |
| DATE | Type | HAVE? | GRADE |
| 1901 | Indian Head, Type 2 | | |
| 1909 | Lincoln Cent, Wheat Reverse, VDB | | |
| 1909 | Lincoln Cent, Wheat Reverse | YES | MS-64RB |
| 1916 | Lincoln Cent, Wheat Reverse, VDB | | |
| 1943 | Lincoln Cent, Wheat Reverse, Steel | | |
| 1944 | Lincoln Cent, Wheat Reverse, Brass | | |
| 1947 | Lincoln Cent, Wheat Reverse, Bronze | | |
| 1959 | Lincoln Cent, Memorial Reverse | YES | MS-66RD |
| 1969 | Lincoln Cent, Memorial Reverse, Small Head | | |
| 1971 | Lincoln Cent, Memorial Reverse, Large Head | | |
| 1982 | Lincoln Cent, Memorial Reverse, Copper-Plated Zinc | | |
| 2009 | Lincoln Cent, Kentucky Reverse | | |
| 2009 | Lincoln Cent, Indiana Reverse | | |
| 2009 | Lincoln Cent, Illinois Reverse | | |
| 2009 | Lincoln Cent, Washington DC Reverse | | |
| 2010 | Lincoln Cent, Union Shield Reverse | | |
---
5¢ Coins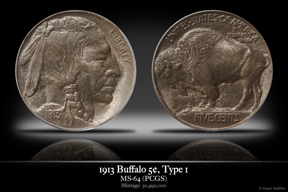 Checklist
| | | | |
| --- | --- | --- | --- |
| DATE | Type | HAVE? | GRADE |
| 1901 | Liberty, with Cents | | |
| 1913 | Buffalo, Type 1 | YES | MS-64 |
| 1913 | Buffalo, Type 2 | | |
| 1938 | Jefferson | YES | MS-66FS |
| 1942 P | Jefferson, War-Time Silver | YES | MS-66FS |
| 1946 | Jefferson, Normal Composition | | |
| 1966 | Jefferson, with JF Initials | YES | Uncirculated |
| 2004 | Jefferson, Westward Journey Reverse, Jefferson Peace Medal | YES | Uncirculated |
| 2004 | Jefferson, Westward Journey Reverse, Keelboat | YES | Uncirculated |
| 2005 | Jefferson, Westward Journey Reverse, Bison | YES | Uncirculated |
| 2005 | Jefferson, Westward Journey Reverse, Ocean in View! | YES | Uncirculated |
| 2006 | Jefferson, Return to Montecello Reverse | YES | Uncirculated |
---
10¢ Coins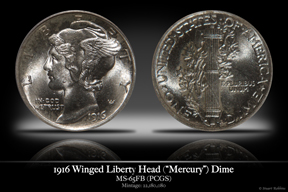 Checklist
| | | | |
| --- | --- | --- | --- |
| DATE | Type | HAVE? | GRADE |
| 1901 | Barber | | |
| 1916 | Winged Liberty (AKA "Mercury") | Y | MS-65FB |
| 1946 | Roosevelt, 90% Silver | | |
| 1965 | Roosevelt, Clad | YES | Uncirculated |
---
25¢ Coins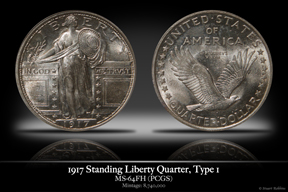 Checklist
| | | | |
| --- | --- | --- | --- |
| DATE | Type | HAVE? | GRADE |
| 1901 | Barber | | |
| 1916 | Standing Liberty, Type 1 | YES | MS-64FH |
| 1917 | Standing Liberty, Type 2 (Stars Below Eagle) | | |
| 1925 | Standing Liberty, Type 2, Recessed Date | | |
| 1932 | Washington, 90% Silver | | |
| 1965 | Washington, Clad | YES | Uncirculated |
| 1976 | Washington, Bicentennial Reverse | YES | Uncirculated |
| 1999-2008 | Washington, Statehood Quarters | YES | Uncirculated |
| 2009 | Washington, DC & Terretories Quarters | YES | Uncirculated |
| 2010-2020 | Washington, National Parks Quarters | | |
---
50¢ Coins
Checklist
| | | | |
| --- | --- | --- | --- |
| DATE | Type | HAVE? | GRADE |
| 1901 | Barber | | |
| 1916 | Walking Liberty | | |
| 1948 | Franklin | | |
| 1964 | Kennedy, 90% Silver | | |
| 1965 | Kennedy, 40% Silver | | |
| 1971 | Kennedy, Clad | | |
| 1976 | Kennedy, Bicentennial Reverse | | |
---
$1 Coins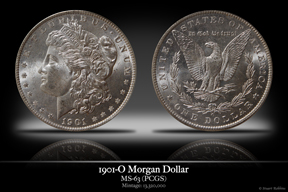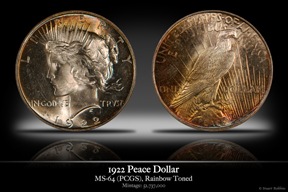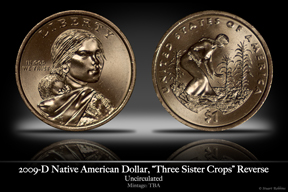 Checklist
| | | | |
| --- | --- | --- | --- |
| DATE | Type | HAVE? | GRADE |
| 1901 | Morgan | YES (1901-O) | MS-63 |
| 1921 | Peace, High Relief | | |
| 1922 | Peace, Low Relief | YES | MS-64 (Rainbow Towning) |
| 1971 | Eisenhower | YES [Part of Date/Mint Set] | MS-65 |
| 1976 | Eisenhower, Bicentennial | YES [Part of Date/Mint Set] | MS-65 |
| 1979 | Susan B. Anthony | | |
| 2000 | Sacagawea | | |
| 2007 | Presidential Dollars, G. Washington | | |
| 2007 | Presidential Dollars, J. Adams | | |
| 2007 | Presidential Dollars, T. Jefferson | | |
| 2007 | Presidential Dollars, J. Madison | | |
| 2008 | Presidential Dollars, J. Monroe | | |
| 2008 | Presidential Dollars, J. Q. Adams | | |
| 2008 | Presidential Dollars, A. Jackson | YES | Uncirculated |
| 2008 | Presidential Dollars, M. van Buren | YES | Uncirculated |
| 2009 | Native American Dollars, Three Sisters Reverse | YES | Uncirculated |
| 2009 | Presidential Dollars, W. H. Harrison | | |
| 2009 | Presidential Dollars, J. Tyler | | |
| 2009 | Presidential Dollars, J. K. Polk | | |
| 2009 | Presidential Dollars, Z. Taylor | | |
| 2010 | Native American Dollars, Government - The Great Tree of Peace | YES | Uncirculated |
| 2010 | Presidential Dollars, M. Fillmore | | |
| 2010 | Presidential Dollars, F. Pierce | | |
| 2010 | Presidential Dollars, J. Buchanan | | |
| 2010 | Presidential Dollars, A. Lincoln | | |
---
$2.50 Coins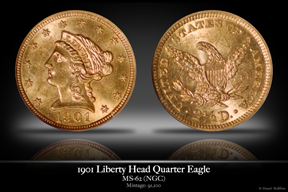 Checklist
| | | | |
| --- | --- | --- | --- |
| DATE | Type | HAVE? | GRADE |
| 1901 | Liberty Head | YES | MS-62 |
| 1908 | Indian Head | | |
---
$5 Coins
Checklist
| | | | |
| --- | --- | --- | --- |
| DATE | Type | HAVE? | GRADE |
| 1901 | Liberty Head, with Motto | | |
| 1908 | Indian Head | | |
---
$10 Coins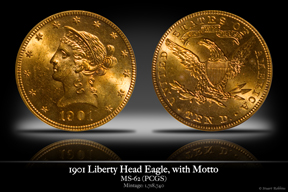 Checklist
| | | | |
| --- | --- | --- | --- |
| DATE | Type | HAVE? | GRADE |
| 1901 | Liberty Head | YES | MS-62 |
| 1907 | Indian Head, without Motto | | |
| 1908 | Indian Head, with Motto | | |
---
$20 Coins
Checklist
| | | | |
| --- | --- | --- | --- |
| DATE | Type | HAVE? | GRADE |
| 1901 | Liberty Head, Motto Above Eagle, "Twenty Dollars" | | |
| 1907 | Saint-Gaudens, Roman Numerals, High Relief | | |
| 1907 | Saint-Gaudens, Arabic Numerals | | |
| 1908 | Saint-Gaudens, with Motto | [Placeholder 1914-D] | MS-64 |