Miscellaneous United States Coins
Overview
Some coins just don't quite fit into other categories, or they're somewhat unique issues. This page is for them!
---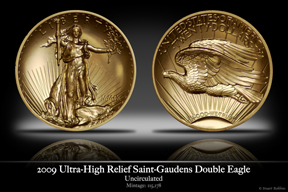 Often considered the most beautiful of all United States coins, the Saint-Gaudens double eagle coin was minted from 1907 through 1933 (illegally in 1933, supposedly). The original design called for a "piedfort" coin, meaning a coin the same diameter as a $10 coin but twice as thick in order to give the resultant 1-ounce $20 coin an incredibly high relief. The technology at the time wasn't up to the task, so a high-relief version was still attempted, just on a normal $20 planchet. The design was still unable to be struck at high volume in 1907 and so the relief was lowered, but that's an issue for a different page.
Edmond Moy, the then-director of the Mint during the George W. Bush administration, decided to do something right for collectors and saw that legislation was passed to allow the minting of a special "ultra-high relief" version of the original Saint-Gaudens double eagle coin as it was originally envisioned, on a piedfort planchet. The original plaster casts of the coin were digitally scanned and re-created, with only tiny modifications ("IN GOD WE TRUST" added to the reverse above the sun, as it was added in 1908; and the 48 stars around the obverse were changed to 50). This design also featured edge lettering.
The Mint struck the coins "to demand" in 2009, and they were originally on sale for $1189. The price rose throughout the year due to the rising price of gold, and in late 2009, the Mint removed the "1 coin per household" limitation. I probably should have ordered a second one at that time, but I didn't. Total mintage ended up being 115,178 coins. Not a rarity, but one that will likely be desired by future collectors and should definitely hold its value above bullion.
---